Misty sunrises and glowing sunsets

frame golden days on the lake that will shape a family's vacation memories forever.

Crisp evenings make for restful nights and vacations that revive rather than exhaust you. We call it "camp", and you will have your campfire outside, but then sleep on a nice bed indoors afterwards

Thirteen miles long, with dozens of islands, and 90% of its shoreline part of the "forever wild" Adirondack State Park, Indian Lake is far quieter and less traveled than most other large lakes anywhere in the United States.

Summer is a time of great swimming, hiking, fishing, mountain biking, canoeing, boating, and just relaxing.

Summer raft trips and kayaking through the Hudson River gorge provide even more things to do for backcountry excitement.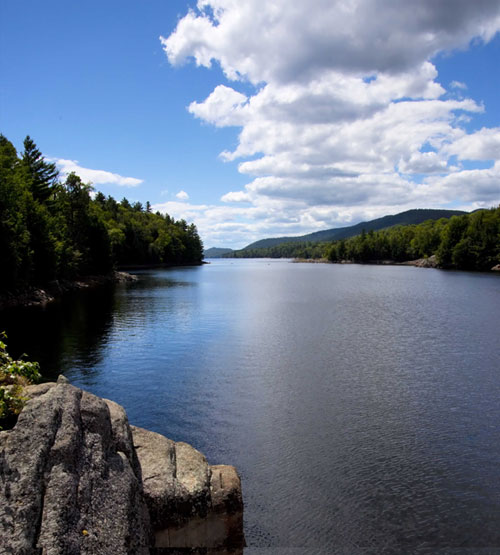 The Adirondack Museum, and the Adirondack Lakes Center for the Arts in Blue Mt. Lake, The Wild Center in Tupper Lake, the Tannery Pond Art Center in North Creek, the Old Forge Arts Center, the Indian Lake Theater for movies and shows, and 18 hole courses within easy driving distance, the Fish and Game Club shooting range and other local organizations provide a host of summertime events and activities. The Lake Placid Olympic region, Saratoga racetrack and Performing Arts Center, the antique trail, Fort Ticonderoga, amusement parks in Old Forge and Lake George, and huge outlet malls in Queensbury are all within easy driving for day trips.

This is a vacation destination that entices visitors to make the trip back year after year. Cabins are normally fully occupied during July and August, with over three quarters of the reservations accounted for by repeat customers. There is always the possibility of a cancellation, however, and we do maintain a waiting list, so don't be afraid to give us a try, even at the last minute.